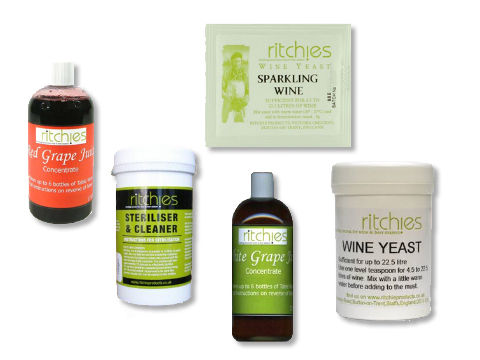 Homebrew Chemicals
Buy Homebrew Chemicals from the Stirling Homebrew Shop in the United Kingdom
Our Homebrew Chemicals products
Filter by category

Homebrew Chemicals

Wine & Beer Yeasts
Filter by brand

Gervin

Mangrove Jack's

Ritchies
Sort by

Product A-Z

Product Z-A

Price - low to high

Price - high to low
No results found! Please adjust the filters.
---
---
Download the Homebrew Chemicals stock list as PDF.
---
Related Categories
---
Our Homebrew Chemicals
Buy wine making chemicals and beer yeast from our online shop or in Stirling, Scotland, UK. The Stirling Homebrew Shop UK has been selling real Homebrew Chemicals from genuine brands like: Ritchies, Mangrove Jack's, Gervin, etc to customers in England, Wales, Scotland and Northern-Ireland since 1976.
Buy homebrew chemicals like wine yeasts, nutrient, campden tablets, tannin, pectolase, wine finings, chalk, potassium and more.
If the product you're looking for is not listed online, please call 01786 464903 to order.
---
Buy genuine Homebrew Chemicals safely online in the UK
Looking to buy genuine Homebrew Chemicals safely from an Online Homebrew Shop in the UK? We sell genuine brands and high quality home brewing products to customers in England, Wales, Scotland and Northern-Ireland.
Our wide variety of Homebrew Chemicals products include: Mangrove Jacks White Wine Yeast, Mangrove Jacks Mead Yeast, Sparkling Yeast 5g, Re-Start Yeast 5g, Mangrove Jacks Belgian Ale Yeast, Mangrove Jacks French Saison Yeast, Mangrove Jacks Sparkling Wine Yeast, Mangrove Jacks Red Wine Yeast, Mangrove Jacks Bavarian Lager Yeast, Mangrove Jacks Beer Finings, Citric Acid 100g, Wine Yeast + Nutrient 100g, Citric Acid 50g, Steriliser & Cleaner 250g, Bentonite 100g, etc.
Shop at the Stirling Homebrew Shop if you are looking to buy real safely!
---
Find a product in our Online Shop