Ritchies Hedgerow Wine Kit
Order Hedgerow Wine Kit - 4.5lt (1 gallon) and other genuine Ritchies products online from our UK Homebrew Shop
Brand:
Ritchies
Stock:
1 in stock
---
Price:
---
---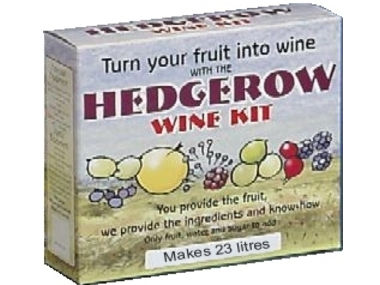 Hedgerow Wine Kit - 4.5lt (1 gallon)
Hedgerow Wine Kit
'You provide the fruit, we provide the ingredients and know-how'
All you need to add is your fruit of choice (see list below), water and sugar
Choose which one you want to make with this kit:
Apple (sour)
Blackcurrant
Blackberry (bramble)
Cherry (black or red)
Crab apple
Damson
Elderberry
Gooseberry
Greengage
Loganberry
Pear
Plum
Raisin
Raspberry
Redcurrant
Rosehip
Rowanberry
Strawberry
What a great gift for the home brewer who want to experiment or the home grower who doesn't know what to do with all the fruit!
---
Important Note: Before use (or consumption if applicable) please always check the label/leaflet/manual of the product for allergens!
---
Buy real Ritchies products in the United Kingdom
As official Ritchies stockist in the UK, we sell genuine Wine Kits to customers throughout the UK in England, Wales, Scotland and Northern-Ireland.
Ritchies support customers with Home Brew Products for beer making, wine making and cider making as well as marketing and product samples to support your business.
View more products on the Stirling Homebrew Shop from Ritchies.
---
Where to buy Ritchies Hedgerow Wine Kit safely online?
Shop at the Stirling Homebrew Shop if you are wondering where you can buy Hedgerow Wine Kit - 4.5lt (1 gallon) safely online in the United Kingdom.
Our Homebrew Shop is located in the UK and our independent store has been serving customers in England, Wales, Scotland and Northern-Ireland since 1976. You can buy our Wine kits, beer kits and Homebrew accesories and other genuine Wine Kits online and we post out orders to any UK address.
---
---