Beaverdale Chardonnay 6 bottles
Buy Beaverdale Chardonnay - 6 bottles safely from our Stirling Homebrew Shop UK
Brand:
Beaverdale
Stock:
3 in stock
---
Price:
---
---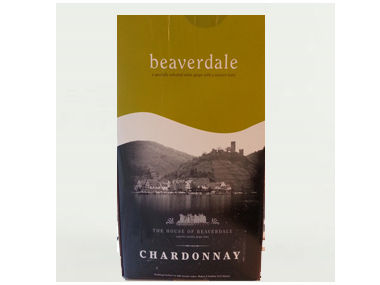 Beaverdale Chardonnay - 6 bottles
White wine kit
House of Beaverdale is a pure grape concentrate of such high quality that it allows people to produce fine wines in their own homes, in a range of wines to rival those produced professionally in the Chateaux of the world's greatest wine producing regions.
In order to achieve this we use single grape, or grapes from an area like Rioja.
The grapes are carefully balanced with sugars to maintain the very highest standards of consistency and quality. Like all grape wines, the House of Beaverdale will improve with keeping, but we firmly believe that even within a week of the wine being finished, you will be absolutely delighted with the taste.
If, however, a few bottles from each batch can be laid down, they will have a chance to mature perfectly.
The six bottle size has one and a half litres of concentrate, the 30 bottle size has seven and a half litres of concentrate.
All have yeast, stabiliser and finings and are perfect for a beginner who is looking for quality wine.
All Beaverdale wine kits come with the necessary chemicals.
Make wine at home with:
Demijohn
Bubbler
Syphon
Thermometer
Hydrometer
---
Important Note: Before use (or consumption if applicable) please always check the label/leaflet/manual of the product for allergens!
---
Buy real Beaverdale products in the United Kingdom
Our UK Homebrew Shop sells real Beaverdale and other Wine Kits safely online to customers throughout the United Kingdom in England, Wales, Scotland and Northern-Ireland.
View more products on the Stirling Homebrew Shop from Beaverdale.
---
Where to buy Beaverdale Chardonnay 6 bottles safely online?
Shop at the Stirling Homebrew Shop if you are wondering where you can buy Beaverdale Chardonnay - 6 bottles safely online in the United Kingdom.
Our Homebrew Shop is located in the UK and our independent store has been serving customers in England, Wales, Scotland and Northern-Ireland since 1976. You can buy our Wine Kits online and we post out orders to any UK address.
---
---